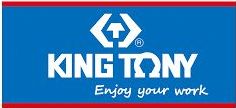 In 1976, amidst a lack of capital and technology in Taiwan, Mr. Charles Lai & Mr. Tony Lin founded a hot forge factory specializing in making hand tools for the DIY market. Eight years later, many other companies had followed their lead and although the market grew quickly, quality suffered. With pricing, costs and quality nearing a state of chaos it became clear to KING TONY's founders that they needed to seek a new direction.
Mr. Lai & Mr. Lin found their new direction; making professional quality hand tools built to compete with the best in the world. They set their standards high and in the years since, have consistently exceeded the requirements of the world's toughest standards. King Tony tools don't just meet the DIN (German) standard and the ANSI (U.S.A.) standard, they routinely exceed them. In fact, we test every torque make to a standard 30% higher than that prescribed by DIN and our pneumatic impact tools to a 50% higher standard.
That's true commitment to quality!
To further underscore our determination to compete with the best in the world we have achieved certification with ISO on three separate standards. First, in January 1998, ISO 9002, followed by ISO 9001 and more recently we have qualified for the environmental safety standard, ISO 14001. We believe that is our responsibility to the world and we will always dedicate to reduce the harm to the earth during our manufacturing process in the future.
You might sense that KING TONY Tools is about much more than a world-class tool. The ideals of KING TONY's management are fulfilled daily by our hundreds of employee's at our branches and offices around the world.
KING TONY focuses on international brand marketing. We raise brand exposure & professional image to strengthen our position in the market. We sponsor customers to promote KING TONY in every professional field around the world.